Annual Red Dress Charity Run
Saturday, July 9, 2016
Join us for our annual Zurich Red Dress Charity Run on  9 July 2016 (2 p.m.) at GZ Hottingen.
Read about the CH and TT challenge here.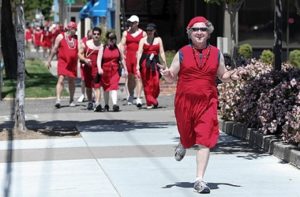 Ladies (and gentlemen…), have you always wanted to wear a lovely red dress and run through the city?
Or are you a charitable soul who loves to do something good for the community rather than simply handing over cash?
Or would you like to have a fun run and at the same time do something that is meaningful to others?
Or would you just love to spend some time with your friends, sipping a drink while idly walking through the city and feeling good because you have just helped make a sick child smile?
If you were able to say a happy 'YES' to anyone of the above questions, then this is the right event for you.